Spotlight: Lynn O'Brien, May 2018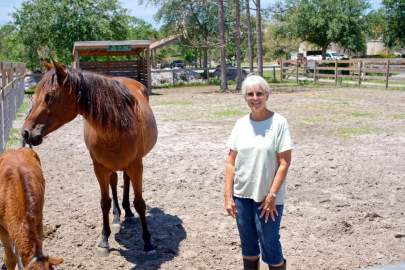 Anyone that's spent any time around our barn knows this month's spotlight team member. Lynn O'Brien has been helping us save horses for over five years now and has worked as hard as anyone to make sure that our horses are loved and well cared for.
Lynn has a lifelong connection to horses and was first introduced to them at a very young age while she was living in New Jersey. There were several horses around her home and she cared for them daily until she left for college.
After college she continued to own horses until she moved from New Jersey to Las Vegas with her husband. As she and her husband built their lives and family out west the timing just wasn't right for a horse in her life.
Several moves and years later Lynn found herself in Florida. She never forgot about her love of horses and one day while reading the newspaper she came across a story about ERAF. She visited our barn and very quickly became involved.
We have so many people that give their time and their money to make our work possible. Lynn is one of the most generous spending, six to seven hours five days each week. No job is too big or too unpleasant for Lynn and she can work up a sweat with the best of them.
We asked Lynn what she likes best about ERAF and she said it was the people–so many of her peers working tirelessly to give a horse the love and care that they need to get to the next stage of their lives.
During her time with us Lynn has watched ERAF go through the many changes necessary to make our Foundation a world class rescue organization. She is a fan of our new P3 program which creates a strong bond between each volunteer and their assigned horse.
While everyone that gives of their time is worthy of praise and a heartfelt thank you, we wanted to isolate Lynn for giving in the amount that she has for as long as she has.
While our horses are unable to show their appreciation to Lynn for her level of giving and long-term commitment, the board of directors of ERAF would like to express their profound appreciation to Lynn for everything that she's done for us.
Please join us in telling Lynn how much she means to us.