Spotlight: Sue Rowley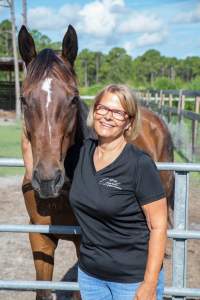 It's often difficult for us to single out one volunteer in a community where there are so many wonderful people doing remarkable things for ERAF. That said sometimes one member catches our attention and we feel that we would like to recognize their selfless giving.
This month we would like to say thank you to Sue Rowley who has been coming to our barn for about a year.
Like so many others Sue was driving down Martin Highway and noticed our signs. She decided to pull off the road and as the saying goes the rest is history.
Sue was living in Connecticut until about a year ago when she decided that she wanted to be closer to her two grown boys. She moved to Port St. Lucie which allowed her to see her boys and her three grandchildren frequently.
Sue retired shortly before her move south after spending a career working in corporate finance for a pharmaceutical company located near her Connecticut home.
Sue had some exposure to horses when she was younger but hadn't spent much time with them as an adult. She has been making up for that lost time by absorbing any knowledge our staff is prepared to share with her.
She refers to ERAF as her "Happy Place" and has a bit of a "thing" for the beautiful Ms. Jasmine has become her favorite horse.
Those who spend time with us during the summer months know how difficult conditions are under the Florida sun. Sue's willingness to give of herself to help our horses makes an enormous difference to us and our horses. Without Sue and the many others like her ERAF could not function.
We would like to take this brief moment to let Sue know how special she is to us. Thank you for all that you do Sue Rowley!