Click here for Important Information on the ERAF response to COVID-19
Rescue work is hard on a good day. Then along came COVID-19 and the cancellation of all our fundraising events adding to the critical financial burden. Now, more than ever, we need YOUR help. Click on the image below to go to our Go Fund Me campaign and donate, or you can donate on our web site.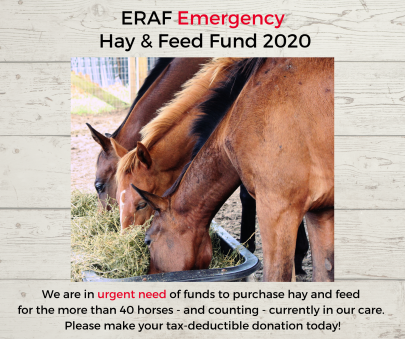 Now more than ever, ERAF needs your support. We don't know what the days and weeks to come will bring. We DO know that for the more than 40 horses in our care their needs must be met. This includes veterinary care, feed, hay, staffing and much more. If you are able, please consider making a donation by clicking the button below.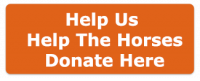 We will continue to keep you informed via email, social media, and our website. We appreciate your continued support and understanding during this strangest of times.
Welcome to the Equine Rescue and Adoption Foundation, Inc., a nonprofit in Palm City, Florida, now celebrating 20 years of service to rescued horses.
We are the new beginning for horses who have been neglected and abused by their owners and are in desperate need of help.
They come to us broken in spirit and without a safe home. They come to us abused. They come to us ill and hopeless. The story is repeated time and again.
But with our hard work, your generosity, and a loving new home they can once again be healthy horses that are filled with life and promise.
Our work is often filled with unspeakable sadness as these once upon a time majestic horses that have been abused, starved, and left unwanted come through our gates. Each comes with his or her own sad story and sometimes we rescue them when they are literally at death's door.
Then comes that amazing part of our work. We invest large amounts of our time, our hearts and money rehabilitating each horse that finds its way to our property. We provide them with the care, medicine, nutrition, training, and love that brings them back to a full and productive life.
In order to accomplish our mission, we rely on donations from you. In order to get the work done, we rely on volunteers who give their time. In order to find homes for these horses, we rely on our adopters. Please click on the links below and Adopt, Donate, Volunteer, support our fundraising events. Together we make a difference.