Sponsor A Horse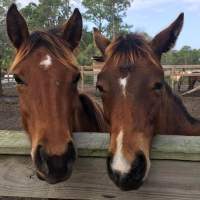 We're excited that you're considering offering one of our wonderful horses the extra care that your sponsorship can provide. Please consider becoming a volunteer so you can also spend some time caring for and loving the horse you choose to sponsor.
Need help deciding which horse to sponsor? Click here to see our Horses and learn more about them.
Sponsoring a horse is a wonderful way to make a difference in the lives of one of our rescues. Your monthly tax deductable donation helps provide an ERAF rescue horse with hay, feed, veterinary care, dental care and farrier services. All sponsors will receive a thank you letter along with a photo of your special ERAF rescue horse. Sponsorship is so easy! Select the horse you wish to sponsor and click to complete the sponsorship form. You can Sponsor a Rescue in honor of a friend, in memory of a loved one or for a birthday or holiday. Business and school sponsorships also welcome!
So, what are you waiting for? Fill out the form below to sponsor a Rescue today and help save the lives of abused, abandoned and neglected horses.
---